Predictive Innovation Consulting Process
1. Quick Start Training
First step in the innovation consulting process is learning the basic skills of Predictive Innovation. Quick Start is the quickest way found so far to create Predictive Thinkers. It was tested in Indonesia on 2nd year Psychology undergraduate college students who had no business or engineering experience. Great test of an innovation consulting process, right? In just 2 days they were able to use Predictive Innovation to find new business models with cheaper than free resources to solve poverty, pollution, and beautify Indonesia. Think about what you can do with this knowledge.
We start with the super fast Inversion method to solve seemingly unsolvable problems. In just 10 minutes you will solve seemingly unsolvable problems with ease. Then you go through a number of learn by doing exercises to quickly gain the other skills to think predictively. This is delivered as a self-paced video course with online tutoring. Instructor led webinar or in-person option is available for groups.
2. Uncover Your Jobs-To-Be-Done
Your business is a tool to satisfy your desires. The products & services your business provides satisfy your customers desires. Innovation only happens if everyone profits. You, your team, supplier, & your customer all must be satisfied. You can always find a different customer or types of customers but there is only one you. If a strategy doesn't satisfy your desires then it fails regardless of the results. First Job-To-Be-Done is satisfy your desires.
We will lead you through a focused facilitation process to gather your desires and convert those fuzzy desires into a objective-measurable Outcomes we can use to develop the correct strategy for you.
3. Objectively Measure Your Desires
QuickMatch is a proprietary method based on neurology to objectively measure subjective desires. In just minutes literally see what to focus on and if members of your team are on the "same page."
The QuickMatch software eliminates painful 1-5 multiple choice surveys. The game-like interface makes measuring desires fun. The key is using the correct part of the brain. Accessing the part of the brain that makes decisions without switching back & forth reduces "brain drain" caused by typical survey methods. It keeps the respondent engaged and enthused. Get great results, accurately, and very quickly.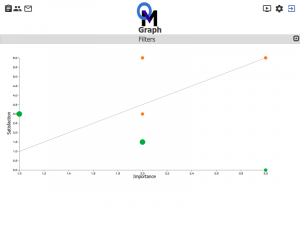 4. Choose 1ST Customers, Who are they & What do They Want?
Find customers 1st then make what they want. This seems obvious but nearly everyone does this backwards causing the average 80-90% failure rate of new products & businesses. You will identify the best 1st customers Create their Jobs-to-Be-Done map and objectively measure their desires. When combined with your map it sets the guide posts for your strategy.
5. Identify Your Readily Available Resources
Lack of resources are a problem for nearly everyone. Struggling to find resources while trying to get work done is a waste of time & your sanity. We will fix that before you start by identifying your readily available resources.
6. Find Cheaper then Free Resources. Instant 2X Profit
Using waste to make something valuable turns it into a Cheaper than Free Resource. Predictive Innovation shows you the 216 Types of Waste and how to turn them into Cheaper than Free Resources. You need all the advantages you can get and this is better than cheating. You're helping everyone including yourself.
7. How
There are two parts to how. First is the design of your product or service. Something that creates a unique advantage you control. This is your way to OutCompete. Mark Proffitt will work with you & your team to design both your product & your business strategy to maximize profits & reduce risk.
The second part is an action plan built on the original Agile principles Mark Proffitt developed at Apple Computer so your whole team can sustainably deliver maximum value to your customers & yourself.
8. Mentorship (On-Going as Needed)
You are excellent at putting a plan into action. You are a leader & doer. Focus on your skills, on moving forward, confidently trusting you have an expert navigator to point out the pitfalls and the gold mines so you gather all the value as you go.
9. Agile Coaching (On-Going as Needed)
Learn by doing until you & your team are doing it yourself. This is the same coaching I give to Fortune 500 companies in a more affordable format. If you need the full package that is available on a case-by-case basis.
Get Started