12.Primary Elements
If you break something down to it's smallest pieces those pieces are the primary elements.
Every book, paragraph, sentence, and word in English can be broken down into 26 letters plus a few punctuation marks. These are the primary elements of the written English language.
Arithmetic can be broken down to addition or subtraction. Multiplication is repeated addition. Division is repeated subtraction. (note)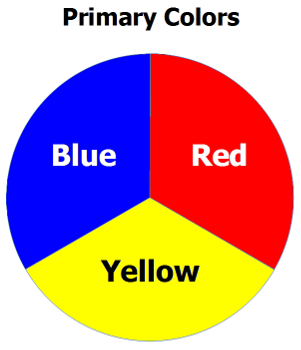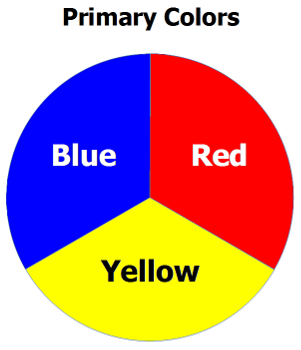 Colors can be broken down to three primary colors, blue, red, and yellow. All other colors are made from those three.
Methods for achieving goals can also be broken down into primary elements.
Using the primary components you can find all the possible ways of achieving the goal. Breaking a system down into primary elements makes it easy to understand. By combining all the elements you can find large amounts of options. More importantly, these options are organized so you can easily work with and understand all of them.
Take the example of shoes. Let say there are two choices of color: black, white. And there are three styles: flats, high heel, and sandal. When we put the choices into a matrix we find all the combinations.
| | | |
| --- | --- | --- |
| | Black | White |
| Flats | 1 | 2 |
| Heels | 3 | 4 |
| Sandal | 5 | 6 |
 2 colors x 3 styles = 6 options
If we add another color the number of options doesn't increase by one but by the number of choices for the other variable.
| | | | |
| --- | --- | --- | --- |
| | Black | Red | White |
| Flats | 1 | 2 | 3 |
| Heels | 4 | 5 | 6 |
| Sandal | 7 | 8 | 9 |
3 colors x 3 styles = 9 options
If we add another dimension the number of options expands even more quickly. Lets add material with two options, leather and cloth.
Shoes

Leather

Cloth

Black

Red

White

Black

Red

White

Flats

1

2

3

10

11

12

Heels

4

5

6

13

14

15

Sandal

7

8

9

16

17

18
3 colors x 3 styles x 2 materials = 18
In a few easy steps we described 18 shoe combinations. We chose 3 dimensions: Color, Style, and Material.
Now think of all the options available for each dimension. More colors, more materials, more styles?
How many dimensions can you add? Size, designer, store?
Adding dimensions is where you get the big increases in options.
Bicycle Examples
How many dimensions are there on a bicycle? If we only look at the physical components of a bicycle we can come up with a good sized list. Without getting too detailed I can come up with 9 components of a bicycle.
Now that we have the components list, or variables, how many choices can we think of for each one of those variables? Add your own to the list.
Variable
Choice
Wheels

Solid
Spokes
Plastic
Steel
Magnesium
Fixed
Removable

Tires

Thin
Thick
Smooth tread
Knobby tread
Solid

Handle bars

Upright
Curved under
Padded

Seat
Frame

Boys
Girls
Steel
Aluminum
Carbon fiber

Gears

Single speed
Multiple speed
Steel
Magnesium

Brakes
Forks

Straight
Curved
Solid
Shock absorber

Pedals
The list I provided had 39 options. How many things did you add to the list?
If you look at the list you will notice that a few choices showed up more than once, such as Steel, Aluminum, and Magnesium. Each of those are a material. We could add the variable "material" to our matrix and apply that to all the choices.
How many different types of materials can you think of?
That list of materials is not specific; it is a list of categories of materials. In effect we zoomed in to get more detail. You can zoom in or zoom out to get the level of detail that is helpful for what you are doing at the moment. Breaking things down into dimensions provides structure to guide your thinking and keeps the results organized.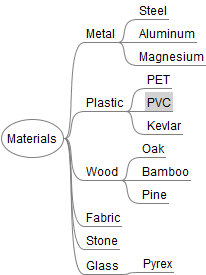 Illustration 48: Material Chunking Levels
If we had started with listing very specific materials like white oak, 440C steel, or wool tweed, it would be very easy to overlook options. We would also spend a lot of time listing options that might not be helpful. Focusing at the correct level provides structure that makes creativity easier.
Chunking
Neuro-Linguistic Programming (NLP) calls this process of choosing the right level of detail chunking. You break things down or group them together into the appropriate sized chunk. Breaking things into smaller chunks is called chunking down. Stepping back and looking at bigger chunks is called chunking up. Learning how to chunk is very useful for innovating.
The key to chunking is choosing a dimension then move up or down by levels. Illustration 48 shows three different levels. Wood, plastic, and metal are at one level and steel, aluminum, and magnesium are at a lower level.
Unstructured brainstorming quickly slows down because you have to spend a lot of time thinking about what you already have. Going about it in a systematic way we can easily come up with hundreds of materials.
If we add more categories and chunk down we can quickly and easily list thousands of options. Looking back at the bicycle here are just a few more categories for the physical aspects of the parts.
Notice that each of those categories could apply to the physical aspect of many different items.
Illustration 49: HSV Color Cylinder
For some things it is possible to choose the correct dimension and chunk size so that you can describe every option. For instance you can describe every color using three dimensions: hue, saturation, and luminance. You probably learned as a child that all the colors are combinations of red, yellow and blue. That is not technically correct. Mixing standard shades of red, yellow, and blue will provide every hue but it does not provide every shade. It doesn't make lighter muted tones like pink or the vivid neon shades. The red, yellow, blue model is missing the ranges. If you mix the full range of each of the primary colors then you can get every color. This can be represented by three numbers ranging from 0 to 100%. Zero for all three is black, 100% for all three is white. The various combinations result in every other color possible.
When you have properly defined the correct dimensions you can describe all the possible combinations for that item. You know all the extremes in every direction, what is and what is not your item. You understand the full range between the extremes; that is all the combinations.
In the case of colors it would be impossible to make a list of each individual color. Using the three dimensions of hue, saturation and luminance you can easily describe all the colors. This is the same way Predictive Innovation works.